Stirrers - IKA ROTOTRON ®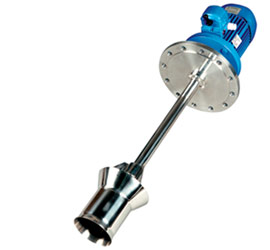 The IKA-ROTOTRON® is a jet-flow agitator with dispersing performance greater than a traditional propeller mixer, but less than a rotor-stator mixer. The ROTOTRON will intensely circulate the product while it mixes, even at high viscosities (15,000 cPs). The rotation direction can be reversed for processing liquids with high viscosities. The special geometry of the rotor and jet-tube concentrate the flow into a high velocity stream, but energy consumption is very low. Because of the high flow characteristics, the machine can be mounted in almost any postion. Standard machines are capable of handling pressures to 230 psig (16 bar), and temperatures of 310 F (160 C). The machines can be adapted to handle even higher pressures and temperatures upon request.
Applications
Polishes, Enamels, Fragrances, Gels, Flocculents, Latex, Waste Water, Aeration, Bio-reactors, and more...
ROTOTRON®

---

RT 115

250

1,000

3

1.5

3600

59 (1,500)

110

---

RT 150

1,250

5,000

7.5

3

3600

67 (1,700)

260

---

RT 220

2,500

10,000

10

5.5

1800

90 (2,300)

47

---

RT 250

4,000

15,000

15

7.5

1800

90 (2,300)

650

---

RT 280

5,000

20,000

25

11

1800

98 (2,500)

900

---

RT 350

8,000

30,000

40

15

1200

106

-

---
| | | |
| --- | --- | --- |
| | Price: | Upon request |

| | |
| --- | --- |
| | Product inquiry and questionnaire |

Batch Mixers